I have been working with the
Diaper Shops
for several weeks already, and in order to catch up with some of the things that I did while I was not posting regularly, I want to show her blog off.
The owner of
Diaper Shops
is the owner of four cloth diaper sites, and a very nice lady. She is considered the Cloth Diaper Whisperer as she has been in the business for almost 8 years, and knows her stuff very good. All her sites were done by another designing company (we didnt know each other back then.. LOL), but I got the chance to design AND mantain her blog.
It was a plain blogger template, and I turned it into this (you can click on the image for a "live preview).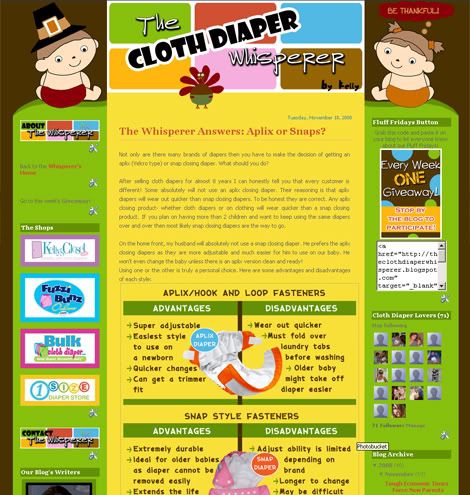 If you notice the two babies from the top have a "thankgiving" outfit, and every month they are being changed to the next holiday... Last month I had them dressed with Halloween outfits, and next month they will be dressed as Christmas..

As Im also doing weekly maintenance of her blog, and hosting weekly giveaways for her... I REALLY love it, and it makes me want to go greener everyday!!!!
What is blog maintenance?
The blog maintenance is to help to keep fresh and updated the business blog of the busy owner of a new business and mom. I understand how busy you are making the products to sell, and the most important thing: Being a mom.
Your blog design will be adapted according to the season or a special holiday coming up. This will keep the look of your blog fun and appealing. For example, for the month of October, your blog design will have some banners or graphics according to Halloween, and so on.

I also understand how a business blog can try to get spam and junk advertisement, so I will filter your comments, and you will only see the "good" comments after they are approved by me. When that happens, you will be notified by email so you can answer the comment.
We will also give you advice and directions of what to post with a set up schedule made by me at your convenience. I will also teach you how to save time with your weekly post and how frequent they should be. I can also take over some regular posts like giveaways and things like it.

For new blogs, there will be a 50% off from the maintenance fee until you get 100 visits in the same week. This will be monitored through Sitemeter. After you reach 100 visits, you will get charged for our regular fee.